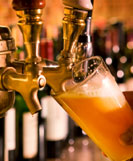 LT Evans offers a robust selection of draft or bottled beer. We have choices for the most discriminate taste. Enjoy a cold draft– Miller Lite, Coors Light, Yuengling Lager, Blue Moon, and Guinness – always on tap.   5 Rotating taps with premium crafts and the latest seasonals available!
Domestic Beers
Budweiser
Bud Light
Bud Light Lime
Coors Light
Miller High Life
Miller Lite
Yuengling Lager
Yuengling Lager Lite
Rolling Rock
Sam Adams Boston Lager
Sam Adams White Christmas
Sam Adams Winter Lager
Landshark
Michelob Ultra
Miller Genuine Draft
MGD 64
Seagrams Watermelon Splash
Seagrams Grape
Shiner Bock
Redd's Apple Ale
Redd's Strawberry Ale
Smirnoff Ice
Twisted Tea
Imports and Crafts
Heineken
Corona
Corona Light
Labatt Blue
Stella Artois
Victory HopDevil Ale
Troegs Perpetual IPA
Blue Moon Mountain Abbey Ale
Angry Orchard
DogFish Head 60/90 Min IPA
Guinness Blonde
Mad Elf
Victory Golden Monkey
Leinenkugel Snowdrift Vanilla Porter
LT Evans has the most experienced mix-masters in town. An eclectic group that can whip up anything your heart desires. From a sophisticated dry martini (olives optional) to a seasonal fruit concoction, here's a few of our more popular libations to wet your whistle:
Barefoot Wines
Whites: Chardonnay, Pinot Grigio, Riesling, Moscato, Sauvignon Blanc
Reds: Cabarnet Sauvignon, Shiraz, Merlot
Blush: White Zinfandel
Need a pick-me-up – check out our RedBull choices!
Other Beverages
Bottomless Fountain Drinks (free refills) $2.49
Coke, Diet Coke, Coke Zero, Cherry Coke, Seagram's Ginger Ale, Sprite, Sprite Zero, Mello Yello
Fuze Raspberry, Unsweetened, and Sweet Tea, Minute Maid Pink Lemonade
Bottled IBC Root Beer – $2.49
Coffee (free refills), Hot Tea (decaffeinated available), Hot Chocolate $1.79
Ask your server for our variety of domestic, imported and craft beers, wines and full array of mixed beverages